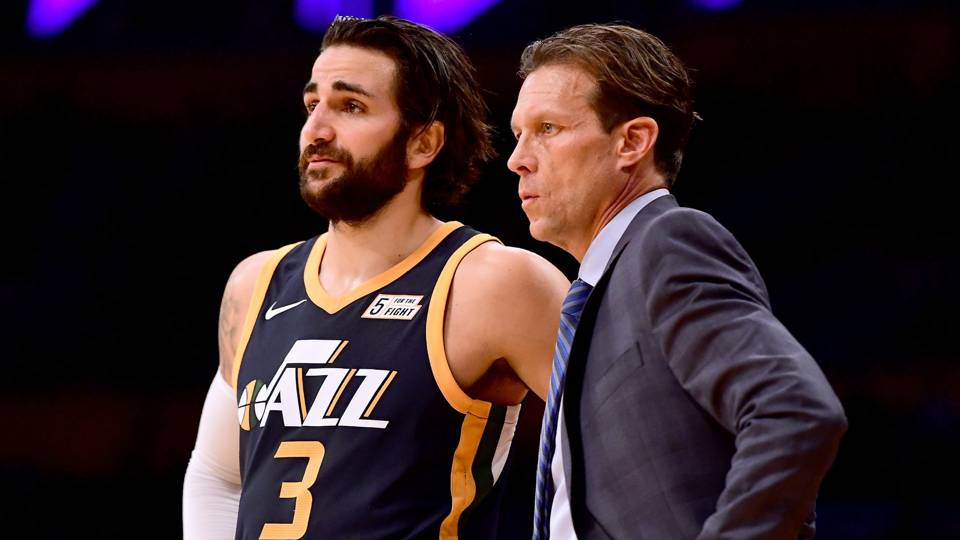 Let's get the elephant out of the room once and for all before we move on to less interesting Jazz topics: Ricky Rubio's hair is absolutely majestic in all it's glory.
Now, back to basketball.
Seven days, four games, and the summary of 2017-18 Utah Jazz season in a nutshell. Let me know if any of this sounds familiar:
Jazz are fantastic at home, 2-0. The Jazz's plus/minus at the new and improved VSHA or Delta Center if you're over the age of 30, +19. The Jazz's two road games...you guessed it, 0-2. The plus/minus for those affairs, -21.
Rodney Hood's injured. Since drafted, Hood has only played in 58% of his regular season game opportunities.
Jazz fans are stoked about the potential a relatively unknown rookie shooting guard with tremendous athletics but doesn't shoot very consistently at all and turns the ball over wayyyyyy too frequently has. Other examples: Alec Burks, CJ Miles, Ronnie Brewer, and Deshawn Stevenson. Through week 1, Donovan "Spida" Mitchell is shooting 26.7%, 18.8% from downtown and is averaging more turnovers (2) than he is rebounds (1.3). I do love his upside though.
The Jazz will run a thousand million pick & rolls per game, every game and until the end of time.
Fast forward these four games into the next 78. Would it surprise any Jazz fan if they finished .500 and somewhere around the 8-9 spot in the Western Conference? This is another patented Utah-Jazz-pre-Gordon-Hayward-the-All-Star. Prior to last season, the Jazz finished between 36-43 wins in five of the previous six seasons.
On the bright side because nobody likes a Debbie Downer of mediocrity, here are a few guesstimated, cool Jazz facts that have yet to be foreseen in the early going:
Ricky Rubio will lead the league in assists. Right now, he's only at 7.5 assists per game. Rubio finished 5th last year averaging 9.1 assists per game. Like I mentioned earlier, Rubio is going to run a million trillion pick & rolls per quarter, every game and even during post games. He'll get 4-5 assists just on alley-oops alone. Rubio is also the best ball handler on the Jazz roster by far, so the offense is going through Rubio's hair hands another million trillion times.
Rudy Gobert will lead the NBA in blocks. The Jazz will probably lead the league in blocks as a team with a healthy Favors. Gobert should win defensive POY, but the award won't go to somebody not in the playoffs. Unfortunate because he deserved it last year. #politics
Joe Ingles will lead the league in 3-point shooting percentage. Not that cool of a guesstimation but I feel confident about it.
By years end, the nationally televised NBA announcers will be gushing over the Jazz's frontcourt domination. Seriously. They should be considered in the top-3. The Pelicans with Anthony Davis and Demarcus Cousins, the Clippers with Blake Griffin and Deondre Jordan, and the Jazz with Ekpe Udoh and Jonas Jerebko. Typo: I meant Gobert and Derrick Favors, stupid autocorrect.
The Jazz will make moves before the deadline. A contending team (and probably Joe too) will want a clutch veteran they can rely on for a playoff push. I like Rodney Hood to stay if healthy. "If." The Jazz need to move up a few spots from their usual 11-14 draft slot they always land.
For now we get to enjoy the Jazz and Rubio's hair in all their glory. They'll beat teams they shouldn't, like the Thunder. Struggle with teams they should smash, like the Nuggets. Play lock-down defense particularly at the rim. Have one of the slowest offenses. Finally, the coolest fact you did not already know about the improved arena; it's equipped with a meat locker behind the Jazz's bench for Rodney Hood's ice bags.